The Drift Podcast has a mission of informing, educating and entertaining you contact us if you have ideas or call in at show time at 712-775-7465 participant code 698438
As a voice for conservatism it is my mission to find every way possible to save taxpayers money by pointing out ways of reducing state operations and their associated costs.
My mission is to see Michigan with a balanced budget and a surplus in funds.
It is my vision to see Michigan back in the top 5 nationally for manufacturing, to see our taxes among the lowest in the nation. To see our unemployment rate in the low single digits and to see our property values reinstated to reasonable levels.
Real Change
When I became Editor of The Courant in my hometown of Northfield Township (Whitmore Lake) it was to make a change. I had watched our township become divided over growth and development, and I had seen self serving people financially devastate a township in order to limit development and progress on their doorsteps.
In 2008, I supported good candidates to take control of the Township. In less than 2 years our new Board of Trustees is actively solving community problems, and making tough decisions to cut back on personnel and budgets to get Northfield Township back on track. I ran in the 2008 election for Clerk and lost by a slim margin, but the ideas I ran on and the other candidates I supported, have helped to correct many of the problems our community faced.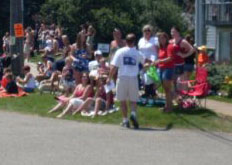 To Advertise on The Drift Call 734-629-6010